212 Performance
AX360 Seamless Knit Grip Lite Gloves
The extremely comfortable AX360 Grip Lite Seamless Knit Work Glove is a lightweight, breathable work glove provides the wearer maximum dexterity and high gripping power.
Details
Keep it light, keep it breathable. That was the main goal when creating 212's lightest glove. The AX360 GRIP LITE work glove is the coolest and most breathable glove on the market. The 18g shell provides maximum dexterity while the NFT coated palm enhances grip and abrasion resistance.
WARNING! This product will melt when exposed to extreme heat or open flames, posing a risk of serious injury where melted product comes into contact with skin!
Features
BREATHABLE FABRIC - The main body of the glove is made from a blend of breathable nylon and spandex
NITRILE FOAM PALM - Nitrile foam palm provides increased abrasion resistance
TEXTURED GRIP - Palm and fingers are textured provide excellent grip in dry and wet conditions
ELASTIC CUFF - Elastic cuff fits snug and keeps out dirt and debris
EXCELLENT DEXTERITY - Fully seamless glove provides excellent range of motion during wear
BULK PACK - Gloves sold in bulk pack of 12 pairs
Specifications
country of origin
Pakistan
warranty
10 Day Limited Warranty
Badges
Excellent Dexterity
Fully seamless glove provides excellent range of motion during wear while the main body of the glove is made from a blend of breathable nylon and spandex
Textured Grip
Palm and fingers are textured provide excellent grip in dry and wet conditions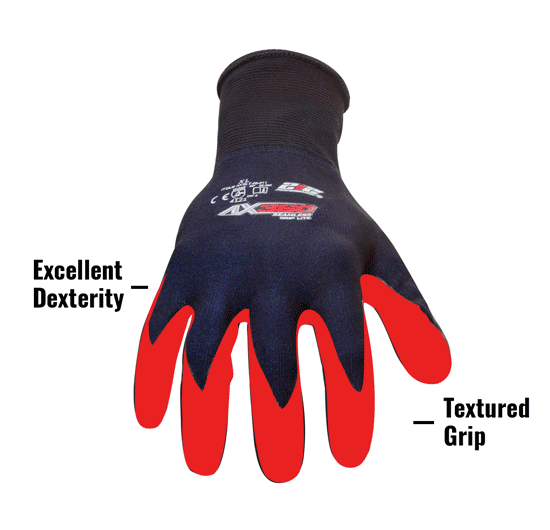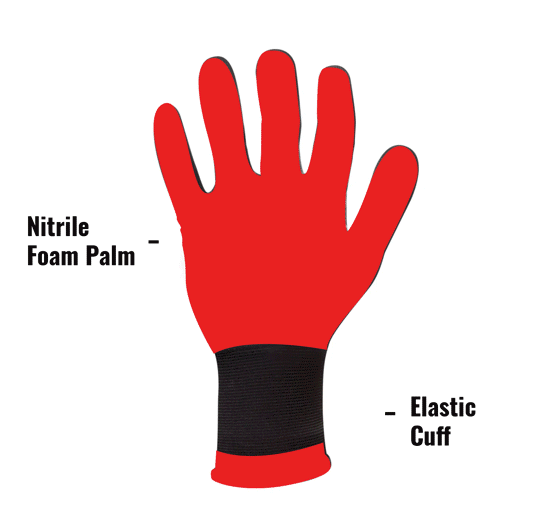 Nitrile Foam Palm
Nitrile foam palm provides increased abrasion resistance for added protection
Elastic Cuff
Elastic cuff fits snug and keeps out dirt and debris while also allowing the gloves to be put on and taken off easily
Extreme Comfort and High Grip

Grip Test
Palm and fingers are textured provide excellent grip in dry and wet conditions
Abrasion Resistance

Anti Microbial

Glove Dexterity

Grip Level

Tear Level

Glove Toughness

Glove Comfort

Glove Breathability