212 Performance
Blackout Impact Air Mesh C3 Gloves
Get cut resistance, abrasion resistance, impact protection, and breathability all in 212 Performance Impact Air Mesh C3 black work glove. Plus it's highly dexterous and GSA/TAA Compliant.
Details
Cut resistance, abrasion resistance, impact resistance and breathability all in one glove? It's now possible with the black 212 AIRMESH IMPACT C3. This breathable, dexterous glove provides the protection you need when the heat is on and the job is tough. Made GSA/TAA Compliant and designed and developed in the USA, this glove is perfect not only for your job but for America's finest. OOHRAH!
WARNING! This product will melt when exposed to extreme heat or open flames, posing a risk of serious injury where melted product comes into contact with skin!
Features
IMPACT PROTECTION - Heavy-duty and flexible TPR molding runs down the fingers and across the knuckles
CUT RESISTANT - Glove material is EN 388 cut resistant 3 rated
COOLING MESH - Back of the hand is made of breathable polyester and nylon mesh
REINFORCED SADDLE - Saddle between thumb and forefinger is reinforced to prevent tearing
NAMAR 4K PALM - Namar palm material is tough and can withstand 4,000 or more Taber abrasion cycles
ADJUSTABLE CUFF - Adjustable cuff has hook and loop closure for a secure and comfortable fit
MULTI-USE - Ideal protection for high dexterity activities like shooting, motocross, batting practice, airsoft, and paintball
Specifications
country of origin
Cambodia
warranty
10 Day Limited Warranty
Badges
Impact Protection
Heavy-duty and flexible TPR molding runs down the fingers and across the knuckles provide maximum finger and hand protection from crushes and blows while on the job
Adjustable Cuff
Adjustable cuff has hook and loop closure for a secure and comfortable fit and keeps out dirt and debris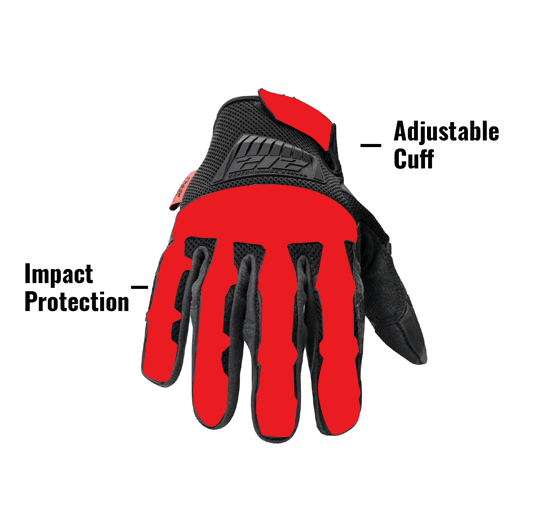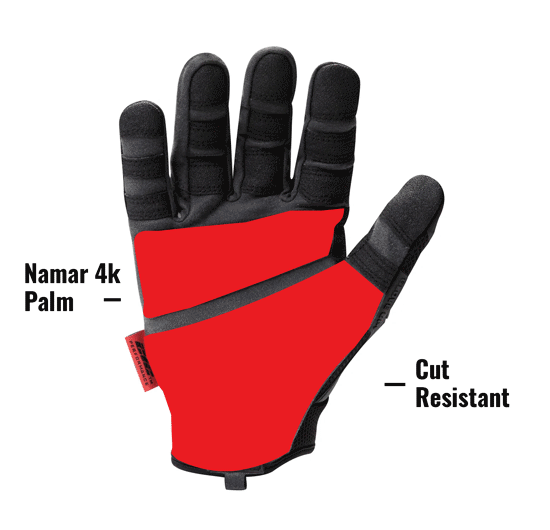 Namar 4K Palm
Namar palm material provides flexibility and dexterity and is built to withstand 4,000 or more Taber abrasion cycles making this glove nearly as tough as you
Cut Resistant
The glove material is rated C3 for EN 388 cut resistance to protect you from nicks and cuts
When the Heat is on, Trust the Performance of Lightest, Toughest and most Breathable Cut 3 Glove Available

Impact Resistance Test
Flexible and ergonomic impact protective TPR sheathing covers back of hand and full length of fingers
Cut Test
These GSA/TAA compliant gloves are made from material that meets EN 388 cut resistant level 3
Abrasion Resistance

Anti Microbial

Cut Level

Glove Dexterity

Impact Resistant

Grip Level

Puncture Resistant

Tear Level